List of letting agents with houses and flats to rent in Cleckheaton, West Yorkshire, rentright.co.uk : List of letting agents with properties for rent in Cleckheaton, West Yorkshire
Below is a list of letting agents who have properties in this area. Complete the form below to send them all an enquiry.
Right Let Leeds
87 Otley Road,
Headingley,
Leeds
LS6 3PS
0113 274 9499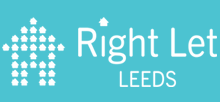 Right Let Leeds are here to help you let and manage your property. It is our aim to make the process as easy as possible. Our extremely high levels of service and value for money make us a popular choice for both professional and student landlords. The 24 hours, 7 days a week maintenance team ensures that your tenants also have the peace of mind know that someone is always available to deal with any problems that they have. Our active marketing campaigns and office location helps us too attract tenants and get them through your door. Why not come and visit the office or call us too discuss your property and how we can help you!